At Mail Call, we firmly believe that we live in one of the best places on earth. Santa Fe, New Mexico may not sound as sexy as Paris, France or London, England, but it is a fascinating city to spend some time in. Whether you are visiting or planning to move to Santa Fe long-term, there are always TONS of things for you to do on your own or with your family. In today's blog at Mail Call in Santa Fe, we talk about some basic travel tips you're sure to find handy when you are planning a trip to Santa Fe. Keep reading to learn more and be sure to stop by and utilize our packing and shipping services to send all your souvenirs and gifts back home!
When's the Best Time to Visit Santa Fe?
The short answer: all the time. However, we'll flesh out the slightly longer answer a bit here so you can decide when the best time for you may be. When most people think of New Mexico, they think of the dry, arid desert. While this can be partly true of certain areas, this is not the case with Santa Fe. Santa Fe sits at the foot of the Rocky Mountains and is at an elevation of about 7,000 feet. You can expect to see trees, mountains, and snow depending on the time of year that you are visiting. Which leads us to our next point. If you are interested in snowboarding in nearby areas and enjoying the fun wintertime activities, then you may enjoy visiting during October through March. If you are more interested in basking in the sunshine while attending outdoor festivals and seeing everything that Santa Fe has to offer on foot, then you'll love going during our peak season from July through September. It's worth noting, that this is the most popular time to go.
Planning to do a little shopping for yourself or for family members? Be sure to stop by Mail Call while you're in Santa Fe to use our packing and shipping services to send thoughtful gifts from your travels to your loved ones!
What Fun Activities Are There?
When it comes to fun activities, there is no way we could list them all in this post. So we'll stick to some highlights and basics today, but keep an eye out for an Even More Fun Activities You Can Do In Santa Fe blog post in the future.
Food
The food you'll find here in Santa Fe is unbelievable. When you visit Santa Fe, there are tons of amazing restaurants to try. If you are in the mood for gourmet Mexican and Latin food, you'll have to check out Sazon off Shelby and Alameda. Or, if you are more in the mood for a high-end American dining experience, you can't go wrong with Geronimo. They offer valet parking, amazing service, and fantastic food in an elegant and awe-inspiring atmosphere. Looking for something a little more wallet-friendly? The Jamo Cafe blends mouth-watering menu options with very reasonable pricing. You'll find interesting and new Caribbean and African dish options created by their very own Chef Ahmed Obo. Obviously, there are hundreds of more fantastic restaurant options to choose from, but these three are all choices everyone is sure to love.
Plaza
When visiting Santa Fe, you will inevitably at some point wind up walking around the Plaza. This area is packed to the brim with beautiful scenery, unique architecture, art galleries, shops, attractions, and more. During many people's visits, they love to take a day and stroll through the Plaza seeing what there is to see, participating in the many activities, and indulging in a little bit of shopping. Our team at Mail Call recommends setting aside a day where your only plan is to wander around the Plaza and do whatever you feel like at the moment. Whether it simply be taking a leisurely stroll and enjoying the beautiful landscape, having a quick meal at one of the many restaurants, or taking a look at what the local vendors have to offer, everyone is certain to have a great time.
If you are a big shopping and souvenir enthusiast, don't sweat it. Shop till your heart's content, and our packing and shipping team at Mail Call in Santa Fe will make sure your items get where they need to go. Contact us today to learn more!
History
The last activity we'll talk about is checking out all the amazing history Santa Fe has to offer. In the Plaza alone, there are more than 15 museums. There is even a nearby location called Museum Hill where you can buy one affordable pass and check out every museum in the area over the course of four days. Or, if you'd rather spend some time outside of Santa Fe for a little while, Bandelier National Monument is an hours' drive away, and well worth it. You'll see serene scenery and get to learn tons about human culture going back 11,000+ years! For those history buffs, you will not be disappointed with everything that Santa Fe and the nearby areas have to offer.
Transportation
Fortunately, once you are in Santa Fe, most people find that they don't really need a car to get around. Everything is Santa Fe is fairly close together, and you can walk from place to place and enjoy the views along the way. However, if you need to get across town and don't feel like walking or need to get there quickly, Uber is fairly prevalent and can serve as a convenient option for travelers.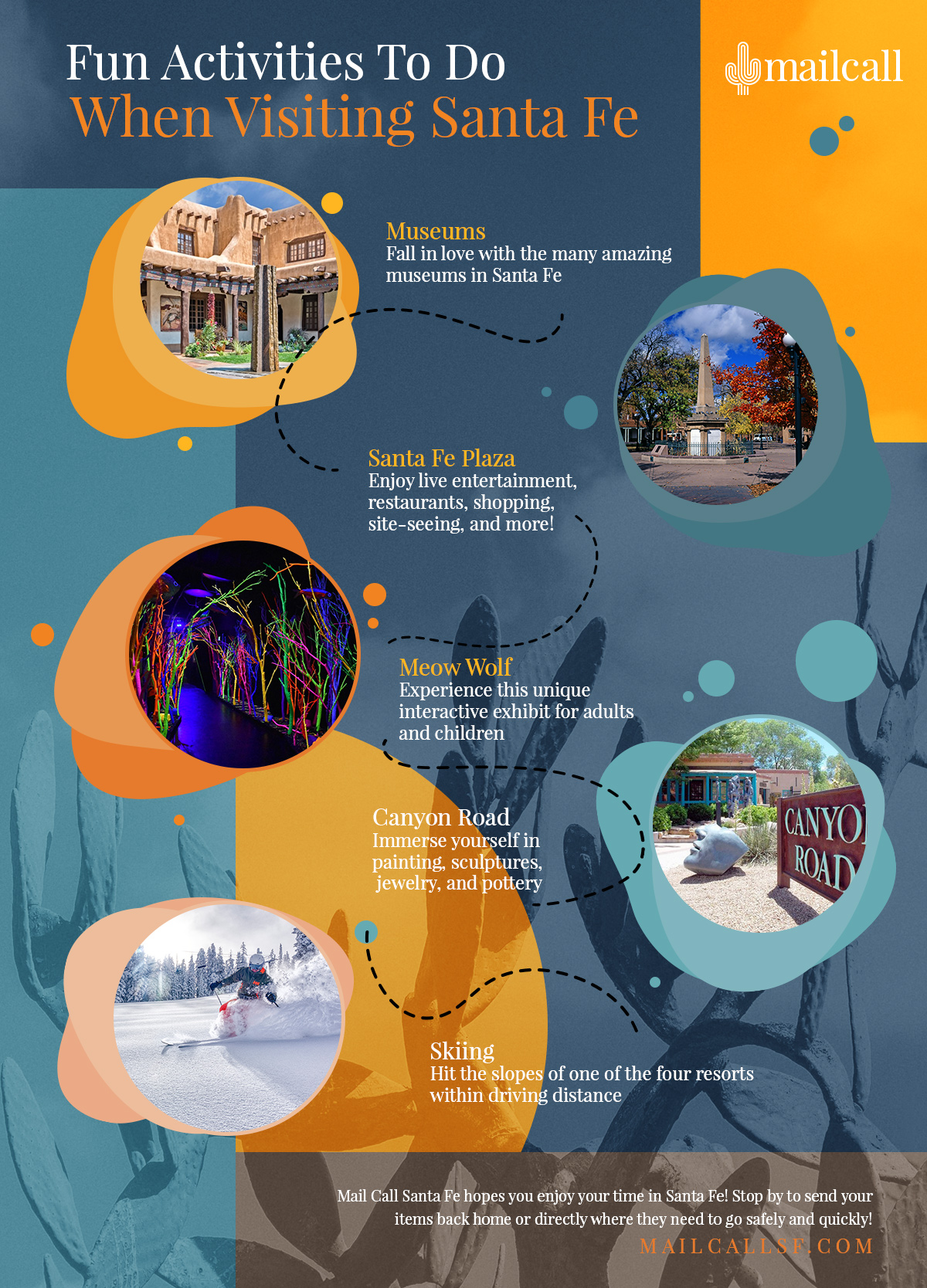 Mail Call in Santa Fe
We hope that today's blog post has been informative and will help you enjoy your next trip to the fullest! There are tons more activities here that we didn't have time to cover today, but Santa Fe is special in the way that there is something here for everyone. We've been operating our packing and shipping services out of Santa Fe for years. We love it here and nearly everyone who visits feels the same as we do. We hope to see you here in Santa Fe soon!
At Mail Call in Santa Fe, we offer full, premium packing and shipping services to both locals and the many visitors we see every year. Scores of people across the world have trusted our packing and shipping services to ship their items where they need to be safely, reliably, and affordably. Next time you are vacationing in Santa Fe, be sure to keep our packing and shipping services in mind to help make your trip a little easier.